Last week's post reflected on Chapter 8, click here for that post. Today we reflect on Chapter 9. I use Max Lucado's Life Lessons* as a study guide.
Lesson Nine: Faith To Overcome
Text: Mark Chapter 9 (click here for text)
My Personal Thoughts On This Reading:
This is my Son, whom I love. Listen to Him!
I took away three key concepts from this particular chapter. Faith. Humility. Peace.
Faith:
All situations can be brought back to a question of Faith. Are we Faithful to His calling? Are we Faithful to His teachings? Are we Faithful to Him as the Authority, the Truth, the Way, and the Light?
Sometimes we are not. In our own selfishness, flesh, desires, and struggles we are tempted to lose Faith, have little Faith, and give up on Faith. We want to follow the path we believe is easiest and gratify ourselves. Or we want His will, yet we doubt His ability to provide for us along the way. We doubt His promises and His goodness in our impatience, or in our inability to understand why He allows painful things to happen in this world.
In times like these Faith asks for the ability to have Faith.
I do believe; help me overcome my unbelief!
This one sentence is a prayer I've found myself clinging to at times. In times I didn't cling to it, I faced the greatest heartaches. Especially in a world where many of us struggle against fear, worry, and anxiety in the face of commands to not fear, worry, or be anxious, it is easy to fall into our unbelief instead of praying for Him to help us overcome it. Instead of capturing our thoughts and meditating on Truth, we become enslaved by our thoughts and meditate on lies. We give into how we feel and why we are justified to feel that way instead of holding up our feelings against the standard of His teachings.
Sometimes Faith is recognizing when our Faith is weak and taking that before the Lord. Coming to Him when we know we are struggling to trust in Him and crying out Help Me Overcome! Because with man, things are impossible. With God all things are possible. All things are possible for He who believes in God. Believing in God is having Faith in God, Knowing the One True God, and submitting to His Commands and His Authority.
Humility:
I see lessons of humility twice in this chapter.
The first is with the disciples. I can see them hearing Jesus cry out "O unbelieving generation" and maybe with frustration or bewilderment, inwardly thinking "Why couldn't I do this?"
When they finally have their chance in private to ask Him, His response is clear. "This kind can come out only by prayer." Some translations state "prayer and fasting".
As Lucado points out in this chapter, "The disciples wanted more confidence in their own power, Jesus told them to focus on tapping into God's power through prayer and fasting". In my thinking, I must humble myself to not make me and what I can do the focus, yet to make His Will and what He can do the focus.
Humility is the path I am called to walk so I can walk by Faith.
Without humility, I am not dependent on Christ, and when not dependent on Christ, I am not growing in Faith.
Christ comes back to humility again when He teaches:
If anyone wants to be first, he must be the very last, and the servant of all. 
Whoever welcomes one of these little children in my name welcomes me; and whoever welcomes me does not welcome me but the one who sent me.
That alone for me is humbling.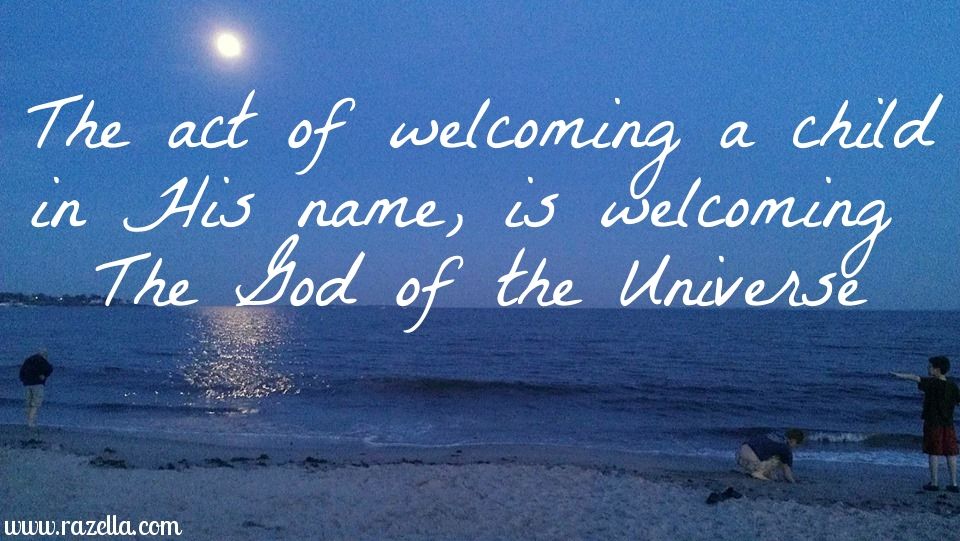 The act of serving my husband with joy. My son. My step-daughter. Friends. Family. Strangers.
Is welcoming the God of the Universe.
How different would our lives look if we stopped for a moment and realized that the coffee we are pouring for our spouse could be used as an opportunity for us to welcome the God of the Universe?
That the child next door who can be trying and loud, can also be an opportunity to welcome the God of the Universe?
Peace:
Have salt in yourselves, and be at peace with each other. 
In Christ we find a peace that transcends all understanding.
In my personal experience, it's a surrender. A surrender of my worry. My fear. My anger. Bitterness. Judgement. Anxiety. Idols. Selfishness. Traditions. Rules.
In the midst of the surrender, He sends His peace. It's like a deep, clean, cool refreshing breath on the hottest and humid of days.
As followers of Jesus, we are called to be salt in the world.
This means forgiving others, because we understand that we have been forgiven our offenses against God.
It means serving, because we understand that Christ came to serve and we are not above our Teacher.
It means proclaiming the Truth in complete love, because Christ loved without compromise.
It also means fleeing from sin. While the image of cutting off one's hand is gruesome, it's vital we don't miss the urgency to flee sin. When we feel like we are at the end of our rope, frustrated with finances, angry with politics, that we remember our children are watching us. Causing a little one who believes in Christ to sin is something we must be vigilant against. Fleeing temptation not only for our own sake, yet, for the sake of our children who watch us. How we treat our spouses. How we treat our friends. How we talk about places and people. How we react in the face of difficulty.
Either we are teaching our children to trust in the Lord and seek His understanding, to have Faith and depend on Him first and foremost in the face of a trial, thanking Him and rejoicing in Him in the face of a blessing,
Or
We are teaching them to rely on themselves. To be angry or fall into despair in the face of a trail. To be prideful and boastful in the face of a blessing. Neither which bring peace.
I believe being at peace with one another is not something we can do on our own. In our flesh, we constantly struggle against the temptation to lift ourselves above one another, compare ourselves against each other, and become annoyed by the imperfections in the other. We want to point out every speck without first addressing our own planks.
Just like it is the peace Christ gives that transcends all understanding, it is by His Holy Spirit we can be at peace with one another.
That's the beautiful thing about it all. Faith, Humility, and Peace. He knows we can not do these things on our own. It is by His power and His grace we do these things. We rely on Him, and He is Faithful to give. 
My Personal Application:
Rejoice in Christ and lean on Him daily for my every need. Ask for His help to overcome my unbelief, to humble my pride, and be at peace with those He brings into my life. Focus on capturing my thoughts this week so I am meditating on His Truths. Seeking His help to be an example to my son as well as any other children He brings into my life. Seeking His help to cultivate in me a servant's heart of Joy for my family, friends, and whoever else He brings my way.
 I encourage you to read along through the Gospel of Mark.
Please feel free to share your thoughts and how the Lord is using this time in His word to draw you closer to Him.
Let us encourage and uplift one another as we strive to Follow Him. 
In Love & Faith,
RaZella
*Books Referenced in This Blog: